Scale Your Content Marketing Strategy To Maximize Its Exposure
If you are maintaining a blog site to keep the traffic of your business website flowing, you should know the different aspects that you need to work out in your content strategy in order to maximize its online exposure. While you have great ideas on what to present as your blog content, your writing style is not the only thing that matters to attain the result that you want. Neither will a killer content can make you enjoy a profitable market when it lacks exposure and does not reach your target audience.
Spamming your content is dangerous
Do you like to use your keywords too many times in your content? If you want to think that the search engine will rank your website higher on search after overly optimizing your website for a particular keyword, the result is totally opposite from this assumption. The search engine rarely ranks websites with spammed keywords in it. Also called as keyword stuffing, the search engine will get the impression that you are playing its system in order to rank high on search by using too many keywords to optimize your site. Some refer this strategy as an SEO overkill that can lead to Google penalizing your website instead. Your keyword density should be between 2% and 5% based on the number of words of your content. Going beyond this can lead to keyword stuffing your content that could lead to the banning of your website. Try to distribute the keywords that you are using evenly on the article and use each term properly within its context.
Keyword research strategy for better search positioning
Your content strategy should include using relevant keywords that have the higher number of search but with the lowest number of competition. This will help your content get better search engine positioning with a higher chance of being found on search. Using keyword research tools like the Google Adword Keyword Tool will make the process easier with more relevant results when looking for the best keyword to use for your content marketing. You can search relevant keywords within your market industry based on the trends, number of search (both global and local search results), number of competition, and broad, phrase type or exact categories.
Your blogging platform matters
When marketing your content, you are using a particular blogging platform where to publish your content. The kind of blogging platform that you are using will have some influence on your ability to optimize your content for online marketing. Among the popular blogging platforms are WordPress, Joomla, Blogger, Tumblr and Google +. Make sure that you use a platform that offers you very useful tools for search engine optimization to boost the results of your content marketing strategies. Plugins are popular SEO tools that can help you attain your SEO goals with more convenience and build your content structures to perform better on search.
Engage your readers to your content and website design
Your ultimate goal is to engage your readers to your content and make it more enticing to draw them more to convert better in order to attain your marketing objectives. You need to consider the color theme to use for your website and select the appropriate font size and type to make sure that your content will be more readable and attractive. Websites with a minimalist design is more engaging to your reader while a website with crowded elements to display can become more distracting to your visitors who might lose interest in reading your content.
Make your content available on mobile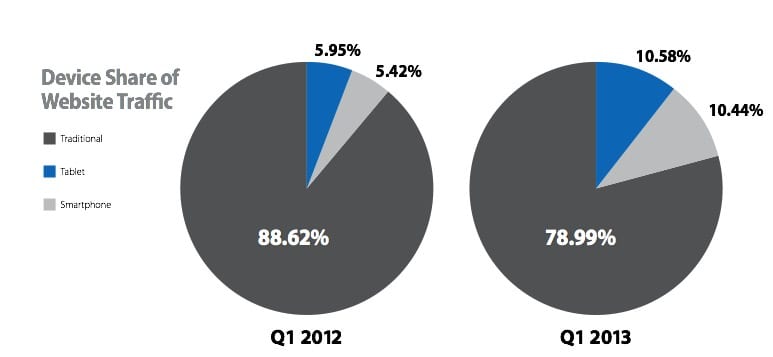 There is a significant shift on the way people surf the web to look for information, shop online and make purchases in the internet. The use of mobile devices now accounts to 12% of American media consumption and consumers are accessing online retailer stores on mobile six times more than in 2012. 80% of the consumers also prefer mobile optimized product information and 40% of them are likely to access at least 3 or more channels for product comparison prior to making a purchase. With this increasing trend of using mobile to access information by the consumers on the prospect products to buy online, your content marketing strategy should also cover mobile marketing as well. This means that you have to make your website more responsive in order to make your content information more accessible to mobile users. With about 64% of mobile shoppers making a purchase using a retailer mobile application, you can also focus your marketing efforts in promoting your content by making your own online store app if you can afford one and provide helpful and comprehensive product information to cater to the consumers' habit of mobile shopping.
Review your content for spammed contents
Because Google is becoming stricter in terms on how online marketers promote their brand online through link building, you should check your content for any spammed and low quality backlinks as they can affect your content ranking on the search engine. Low quality backlinks usually come from websites with low PR sites, those coming from new domains or websites with very few traffic and pages that have too many external links. You can request for a link removal from the webmaster of these poor linking sites to your content or use the Google disavow tool that will signal the search engine to disregard giving credits to certain links found on your website when the webmaster who linked to your site refuse to remove their links. The tool will help remove the spammed and dead links on your content more effectively or make the search engine ignore their presence to your site in order not to hurt your content marketing efforts.
Use various forms of content marketing strategy
While quality of content should be your priority when marketing content for business, you should likewise focus your efforts in giving your content enough exposure to make its web presence known within your target market industry. You can create a social profile and start sharing your content within the social media community. You can also strategize how to present your content promotion using different mediums to entice and engage your readers better. You can use images, graphic and slide presentation or videos. You can also engage on paid media if you have the budget to seriously consider launching a full time advertisement for your content. Google Adwords and Stumble Upon Paid Discovery are good sources for paid media to start giving exposure to your content.
Digital Warrior can help you scale your efforts in marketing your content with optimized exposure on the web. With our content marketing strategy and search engine optimization process, you are guaranteed maximum exposure of your content. Contact Digital Warrior now to start getting a quote and make your content a stellar online!