How To Optimize Conversion Better With A/B Testing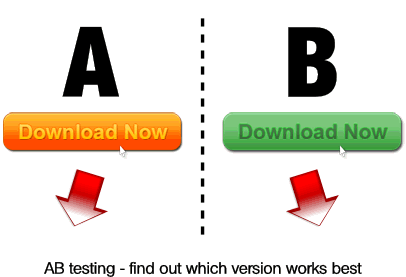 Business owners have the goal of making a good return of investment from their business and there are different ways on how to achieve this successfully. Marketers are using split testing or more popularly known as A/B Testing in order to improve the conversion of their website towards a better profitability. The ultimate goal of A/B Testing is to find the best possible means of converting website visitors to customers.
What makes A/B Testing valuable to your website?
A/B testing involves the process of using two versions of a web page for your website and comparing their performance in terms of its conversion rate. The two variants of your web page are called A and B which are introduced to your potential visitors online. As you run the A/B testing you will be able to find out which of the two web page converts better. What makes the testing process valuable to webmasters is its ability to identify the traffic driven to your website and learn more on how to optimize it better. The cost of the acquisition of a paid traffic can be higher than the costs of enhancing your conversion rate. Thus, undertaking an A/B testing will be a more practical and cost effective way of enhancing your website's ability to generate better conversion than paying for Google Adwords click.
Areas where A/B testing can help optimize 
A/B testing can be undertaken on various aspects of your website. You can run the test on your website elements such as the following:
Headlines
Sub-headlines
Call to action button
Paragraph text
Testimonials
Links
Content near or above the fold
Call to action texts
Images
Awards and badges
Social proof
Media mentions
Sales promotions
Free trial lengths
Navigation and UX experience
Price structures
Make Your A/B Testing Web Page Google Compliant
While A/B Testing will give you the benefit of running a test on the different versions of your website, it can have some potential impact on how your website will rank in Google. However, the Google Webmaster Central Blog provides some guidelines that can help you minimize the impact of A/B Testing on your website ranking on the search engine. You should not be tempted to cloak your website to trick Google while you are running an A/B Test. Cloaking is the process of showing a different set of web page content to human and another to Googlebot which is against the policy of Google and you will be at risk of getting penalized for doing so. Instead, use the rel="canonical" link attribute to the multiple URLs that you are sending your visitors to in order to inform Google that you have the original URL as the preferred version. Using the 302 redirect will also inform the search engine that you are running a temporary redirection in order for it to keep indexing the original URL. Lastly, you should only perform the test as long as necessary in order to avoid giving Google the wrong signal that you are cheating its system that can lead to penalizing your website.
Enhance your website conversion rate with these steps
In order to further enhance the results of your A/B testing and attain your defined goals for conducting the test, you can take these useful steps to guide you through in your undertakings:
Determine your goals. There are many reasons why you need to perform an A/B testing and knowing your goals will help you to focus in getting results based on your goals.
Determine the variables you want to test. There are diversified elements found on your website where you can check using A/B testing as provided above. While you can run a test on all of those variables, it is best to focus which aspect of your website performance you want to enhance (such as online shopping experience of your customers, providing them secured online payment facility, etc.) Identify which variable you can use in order to make your website different and unique from your competitors. At this point, you should rank the variables according to their operational priority.
Determine how you should design your A/B Testing. You will be using models A and B and you should decide which one will be the altered and the unaltered version of your web page. Defining a hypothesis will help you determine how to go about in altering the variable elements that you want to run a test.
Compare and contrast the results of the test. Logically, you should choose the model that yields a better conversion rate to use permanently as your website element. This will help optimize the overall performance of your website in terms of making a conversion from your website visitors.
Make sure to run a post test review after implementing the favorable result from the A/B Testing. This process of evaluation will help you monitor the changes on your website performance and make the necessary changes again where needed.
Important points to remember
Performing an A/B Testing may take a considerable time before you can finally make a conclusion. Giving up too early will make you lose the opportunity of obtaining more meaningful results if you could have waited a bit longer but giving up too late may cause you to lose significant conversion of making a sale. Using tools like the Visual Website Optimizer can help you calculate the reasonable time to run your A/B test. Try to perform different tests as it is reasonable to accept the fact that the first testing will not work out accordingly.
Conducting an A/B Testing can yield a more productive website performance. While this process of optimizing your website conversion rate takes some technical strategy, you need a technology professional to help you like Digital Warrior to do it right. Talk to us now and we will be happy to run a test to your website to improve its conversion rate performance.